At Dworzec Online you can use a wide range of different types of promotion. To check on the course that are available with special promotions, we introduced their special designation. Use the search engine and check the connections on which courses you will find the available promotions.
Designation of promotional courses
Promotional courses are easily identified by the special designation:

Checking promotions on selected courses
Find courses marked with a promo identifier and click "check travel" to develop a list of promotions for the course

Selecting promotion
To take advantage of the specific promotion, choose a course and click "go forward". In the next step, select the type of promotion and click select. Depending on the promotion, price will be automatically updated or will need additional verification (in case of discount codes).

Finalization of purchase:
After selecting promotion, you should click "Next Step" and follow the procedure of purchase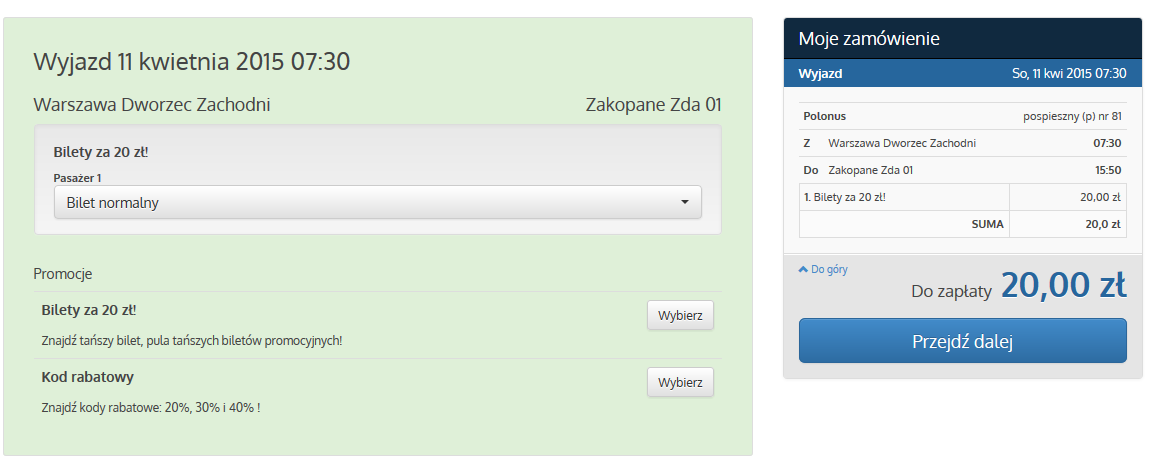 Warning:
Specials cannot be combined with rebates laws and depending on the promotion also cannot be connect to the trade reliefs.